I am unsurprisingly a massive fan of Historical dramas, whether it is based on fictional characters and events (such as the highly anticipated new Netflix show being released on Christmas Day – Bridgeton) or on real life people from history (think the Tudors or Reign). I am also (unsurprisingly again) a massive feminist, and I primarily enjoy film and TV only when there are more than one well written, diverse women in the cast list. Personally I don't think that is a lot to ask but you would be surprised how rare it can be in Public History entertainment.
In general, I still think Public History has a long way to go before it is fully inclusive of different histories, outside of the white, straight, male narrative. However practitioners are learning, especially in the entertainment industry which shows signs of influence from movements like Black Lives Matter and #MeToo. As a result we are seeing a rise in historical dramas with a more diverse cast and storytelling.
Below I have listed my all time Top 5 Historical Dramas that are led by, or centred around, Women. I truly hope this list continues to grow over the years, but for now these are the 5 Public Histories that I think tell women's stories best through a fictional story.
xxx
1. Emilia (Theatre Play) – This play is truly one of the best things I've ever seen/read. Written by Morgan Lloyd Malcolm for the Globe in 2018, Emilia follows the life of Emilia Bassano, a poet in the sixteenth century. Bassano is perhaps most famous for her supposed links to William Shakespeare, with historian A.L. Rowse first suggesting she was the 'dark lady' mentioned in Shakespeare's sonnets. This play does not focus on Shakespeare however, instead Emilia is a celebration of female friendship, a testament to the hardships woman of the past faced – and still face today, and an overall story of hope and determination. Watching Emilia feels like you are being transported to the past, whilst still very much aware of the present. It is loud and emotional and utterly wonderful to watch. There is stellar female-only cast (which I absolutely love) and is led by 3 brilliant actresses of colour, who play Emilia at different stages of her life. Unfortunately the show closed after a limited run, the script is available to purchase online and a recording is available online until December 2nd (you can pay however much you want to watch from £1 onwards). I cannot recommend this show enough, and if you haven't seen it yet PLEASE try and watch it whilst you can. I have mentioned how much I love Emilia Bassano on this blog before, and this play reaffirms that love in every way – I think it's time everyone else falls in love with her too.
2. SIX the Musical – I have written about my love of this musical in a blogpost before so I won't go into too much detail for this once. SIX is a show about the wives of Henry VIII, and features just these 6 women on stage for a glorious 90 minutes. Not only are the songs catchy, upbeat and WELL SUNG, but the dialogue is cheeky, quick and at times incredibly poignant. For all the shows, documentaries, books and podcasts on the Tudor Queens (and believe me, I have consumed many) I truly believe that as a piece of Public History, SIX does the best job at telling their stories. Not just because they genuinely make it fun, but because they give all six women a moment to truly speak on their experiences. I'm not saying you should learn about these queens solely through SIX, but in terms of learning about Gender History, and the ways in which women from the past have been remembered – I think this is pretty brilliant. You can book tickets to SIX through their website. The show is suitable for all ages and is quite frankly the most enjoyable night out in London's West End, I strongly urge you all to get involved with this musical version of gender history.
3. Mrs America – Oh my god everyone. MRS AMERICA !!! This show got me through lockdown 1.0, it came out in April 2020 and I devoured every new episode as soon as I could. It follows prominent American second-wave feminists (including Shirley Chisholm, Bella Abzug, Gloria Steinem and Betty Friedan) through the 1970s as they try to pass the Equal Rights Amendment into the constitution. Spoiler: it fails and it's devastating. The show also focuses on anti-ERA leader Phyllis Schlafly (played by Cate Blanchett) as she campaigns aganist Equal Rights for women (?!). Tragically the real Gloria Steinem criticised the show for focusing too much on the rivalry between Schlafly and the second-wave feminists, claiming that "The series makes it seem as if women are our own worst enemies, which keeps us from recognising who our worst enemies are". In fairness I do see her point, and it makes me consider Mrs. America slightly differently, but as someone who knew nothing about the ERA campaign in the 1970s, it was still extremely enjoyable and interesting to watch. Each episode is focused on a different woman in the movement, and Schlafly herself. It is an incredible insight into how second wave feminism worked (and how it didn't work) and I think it makes a really interesting point about the divisions that feminism inherently causes. It also pinpoints how problematic early feminist waves were to POC and to the LGBTQ+ community, which I think is so important to bring to the public's attention. What must be remembered is that Public History can never be fully accurate, clearly Mrs. America isn't, but it gets you thinking, and tells an important story that resonates with today. It made me cry and I loved it – you can watch too on BBC Iplayer.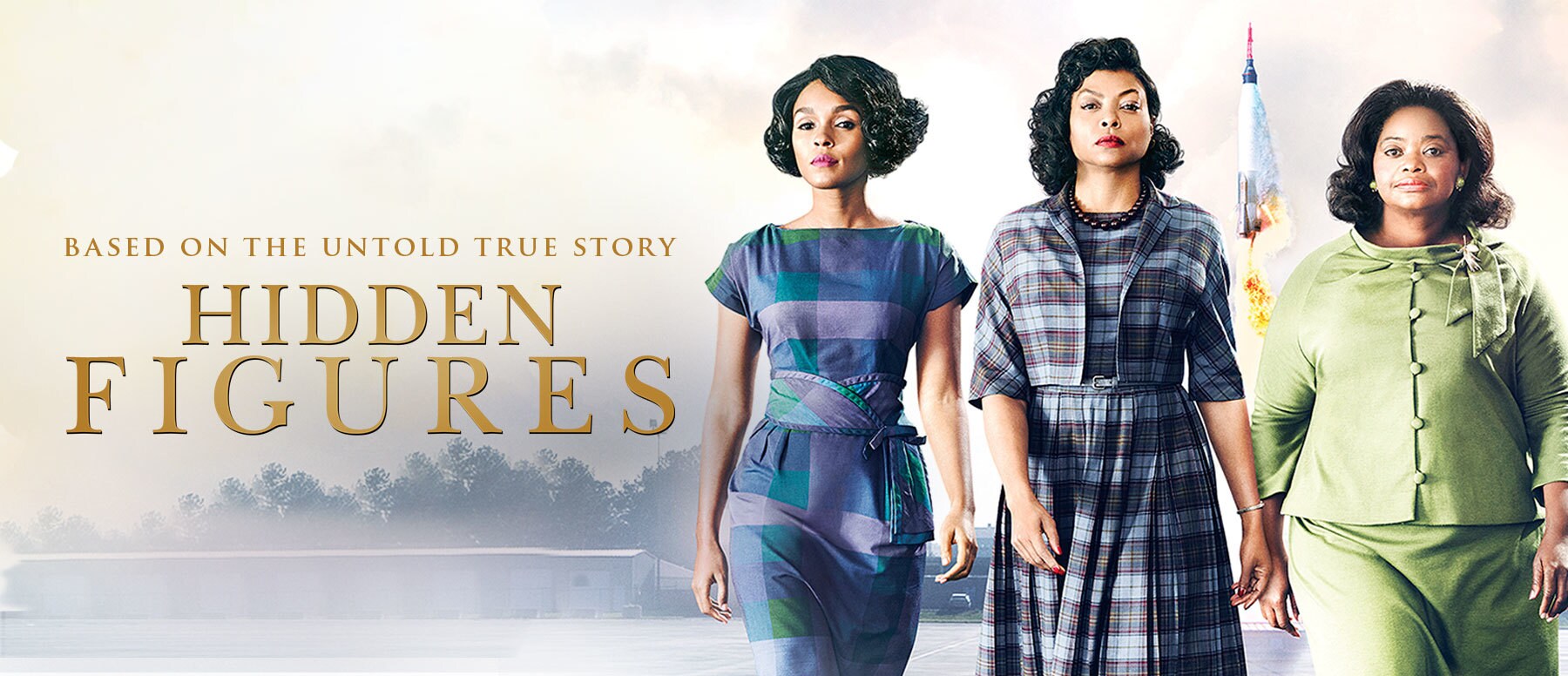 4. Hidden Figures – Possibly the best of the bunch in terms of portraying a strong, intersectional feminist message. I love everything about Hidden Figures, the cast, the story, the real life inspiration. The film follows 3 African-American mathematicians who were essential to the American space race in the 1960s. Katherine Johnson, Dorothy Vaughn and Mary Jackson are so deserving of this attention and celebration, they were brilliant, intelligent women who fought against every manner of discrimination and still excelled. The film follows the three of them as they try to do their (very important jobs) whilst battling against the oppression they face due to their race and their sex. The film does have a tendency to portray the white characters as overly accepting and progressive which I am sure is not the experience Katherine, Dorothy and Mary truly faced. However, their experiences as Black Woman in this male dominated environment is in no way under-minded. The film is a triumph with an excellent cast, that acts through the story beautifully. I love it, and if there are three people most deserving of having their lives commemorated it is Katherine, Dorothy and Mary.
5) On the Basis of Sex – I have to dedicate at least one spot on this list to Ruth Bader Ginsburg. RBG's passing last month was an extremely sad day for so many people, she was a monumental figure for American equal rights and truly a spectacular person. For anyone who is a fan of RGB like me, I highly recommend the film On the Basis of Sex, which follows Ruth Bader Ginsburg (played by Felicity Jones) through the start of her career, as she begins to challenge the inequalities within the American legal system. It is a very lovely film dedicated to a person who fundamentally changed the lives for modern day American woman. One of my biggest hopes in life is that I always have the courage and strength to do the right thing, and fight for what I believe in. No one did that more than RBG, and being able to watch her origin story play out in this film was brilliant to watch. She is a real life superhero and I am glad she got a film that presents her this way. Like the other four on this list, this film is driven by RGB and focuses on her, and her fight for women's rights.
Honourable mention should also go to the TV series The Great which premiered this year and stars Elle Fanning as Catherine the Great; the album No Man's Land and its accompanying podcast Tales From No Man's Land written by Frank Turner which explores the lives of 12 women from history; and the film Vita and Virginia which depicts the romance between Virginia Woolfe and Vita Sackville-West.
xxx
I cried my eyes out watching every single piece on this list. Not just because I was inspired by these women's stories and their strength, but also because it was so utterly brilliant to see all these wonderful actresses working hard to bring these women's stories to life. The thing about these 5 pieces, if that they include a diverse cast, and therefore a diverse storytelling. We are past the point in Public History where we can only tell stories of white men. This is the time for women's stories to be told, for People of Colour's stories to be told, for LGBTQ+ individuals stories to be told. I hope that public histories being produced in the entertainment industry continue to pursue stories of diverse women and men, that tell their stories properly in a way that celebrates them and gives them a voice.
Please tell me your favourite female driven historical dramas below!